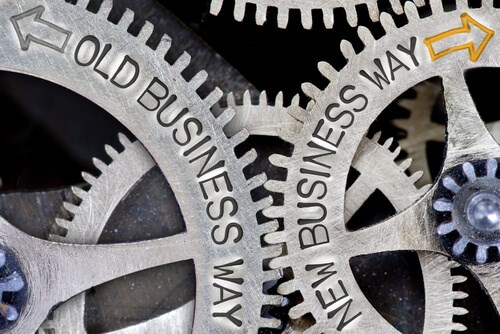 Not so long ago, wearing a seatbelt in a car was optional. It's hard to imagine nowadays, but when the law imposing compulsory seatbelt wearing was introduced, it was widely seen as an assault on personal freedom. A generation later and most of us don't give it a second thought – it's just how we drive.
In a few years, the idea that an employer wouldn't offer a workplace pension by default will seem just as archaic. The idea that jobs would come without even a basic pension will be unthinkable. A workplace pension will be seen as a right – a key part of the relationship between employer and staff.
Workplace pensions are an integral part of your business – not 'once and done'
It's easy to regard auto-enrolment as a bureaucratic headache that can be solved once and then forgotten. But far from a 'once and done' exercise, it's the beginning of a big shift in the way employers relate to staff. This means smart employers are choosing an approach to workplace pensions that will stand the test of time. In fact, there are already legions of employers who now regret choosing an auto-enrolment solution that got them through compliance but not beyond.
What to look for in an auto-enrolment service
In the early stages, the focus is simply on choosing and setting up a workplace pension and maintaining correct contributions. It's a big new job for most employers, so it is no surprise that most are turning to some form of help - be it a fully outsourced service, in-house technology or a combination.
But setting up one pension is only the beginning. Encouraging workers to start saving is not – on its own – nearly enough to close the yawning savings gap in the UK. Over time, every worker will be presented with a range of options for saving for their future.
This means any workplace pension solution worth its salt must:
Deliver streamlined and (crucially) 100% accurate processing at minimal cost, using smart technology that ensures correct contributions for all - inaccurate submissions have been a consistent problem that cause lots of manual rework for all concerned.
Support multiple products and schemes - different age groups need different pensions, so one size cannot fit all for the long term. As time goes on, as workers change employers, as new savings vehicles are launched, every employer will have to support multiple schemes and products for their employees. Single-product solutions will quickly become redundant.
Bring down the cost of saving for retirement - the underlying technology and administration chain in pensions and savings is extraordinarily inefficient. The cost of saving is much too high, especially in the context of minimal contribution levels. All too often the underlying costs (not to mention the headline charges) make the pension pot inadequate. Tolerating this inefficiency would mean that contribution levels would have to rise from today's minimal levels to something much higher (up to 25% according to Aviva). It doesn't have to be this way.
At Husky, we have always believed that technology can be used to address all these issues. Our platforms have been designed not only for today's problem (choosing and setting up a scheme, maintaining it), but also tomorrow's - a range of savings options that any employer can support, 100% accurate submissions every time and radically reduced cost.
---
How did we do?
---