If you're one of the 700,000 or so businesses tackling what's needed to get compliant with workplace pension obligations this year, you may think the words 'easy' and 'auto-enrolment' shouldn't be uttered in the same sentence.
Auto-enrolment can feel like a real headache and overly time consuming, but it doesn't need to be this way. Here are a few tips to help you successfully navigate the workplace pension maze.
1. Start Early
Don't put off planning The Pensions Regulator suggests you start planning 9-12 months before your staging date. If you're a new employer, you'll have a duties start date instead of a staging date, so you should start thinking about compliance as you're planning to bring on your first employee. The process won't take you 9 months, but starting early will give you more choices and remove the stress.
2. Check which staff need to be offered what
If you have part-time, seasonal, casual or contract staff (workers), this may not be as straightforward as it seems. This is referred to as 'eligibility'. Essentially you need to know which of your workers are eligible and what they're entitled to (what you need to do for them).
Check using Husky's pension eligibility tool. You'll see for which workers:
A pension is mandatory
A pension is optional
A pension is discretional
Doesn't need to be offered a pension
3. Review costs and choices
Once you've checked what you need to do for your staff, you can now calculate the likely cost as well as which pension schemes are suitable for you.
Use this workplace pension cost calculator to see indicative costs – most people are surprised how low this is. You'll also get a choice of suitable schemes.
4. Communicate with your staff
You're making a big decision both for your business and your staff. After all, by their very nature, pensions are long term. You do have statutory requirements when it comes to notifying staff about their pensions, but doing more than the bare minimum makes you an employer of choice.
5. Administration and compliance
There's a misconception that once you've set up a pension scheme, you're done. But that's only the beginning. Now you need to manage the ongoing admin and monitor everything. You'll need to notify The Pensions Regulator that you're compliant and then monitor changes in order to stay compliant at each payroll. This can be the most onerous and time consuming part of the process, so do seek support with this. It will free up resource within the business and give you peace of mind you're meeting all your obligations.
This infographic breaks down the obligations at each stage and shows how we make the entire process easy: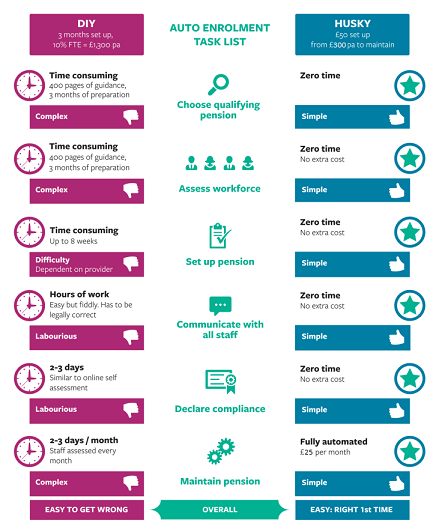 To learn more about how we can help make workplace pension compliance and management easy, get in touch on 0800 044 8114 or hello@huskyfinance.com.
---
How did we do?
---